The Woolly Clothing Co. apparel was previously limited to menswear, but has recently expanded to include a women's line as well as a few baby and home items. I was exited to put them to the test and provide a review. Most women's merino brands are marketed to the outdoor enthusiast/extremist and while I do enjoy the outdoors, my review will center around my life as a mama of two young children. At my current stage in life when I am purchasing clothing these are some things I consider: are these garments suitable for pregnancy/postpartum, are they breastfeeding friendly, and are they multipurpose (can I sleep in them and run to the store and still look presentable?). Keep reading to see how the Woolly Clothing Co. women's line measures up to these standards and for The Wool Life exclusive coupon code below.
Woolly Clothing Co. was started by three Seattleites with the goal of making quality merino at an affordable price so that the most essential everyday cotton and synthetic garments could be replaced with better merino options. Their wool is sourced from Woolmark certified Australian merino, which is regarded as one of the softest and finest wools. Their garments are manufactured in China and meet a high standard for quality, sustainability and excellent working conditions. They are also certified members of the Business Social Compliance Initiative (BSCI) and prove that it is possible to find highly sustainable and ethical manufacturers in China.
This review will include the Women's ultralight v-neck, cowl neck pullover, legging and the hip hugger brief. I was given these items in exchange for my honest review, and all opinions are my own.
(This post may also include some affiliate links for your convenience, click here to read my full disclosure policy)
FIT: Women's Ultralight V-Neck long sleeve and short sleeve: I sized up to a medium for a looser fit but certainly could have also gone with a small. Because the weight of the merino is ultralight, it is very thin and has a nice drape. It does stretch out a little with repeated wear, which is typical for any pure merino garment, but it does not lose the fit after being worn a few times. The V neck is a little deeper V which I found quite flattering. It certainly does not have the appearance of outdoor shirt. My favorite feature of these shirts is that it is extremely easy to breastfeed in! The lightweight merino and the deep V cut make it the perfect breastfeeding shirt for sleeping. Both shirts will be getting a lot of continual use from now on. The shirts provide very discreet nursing when paired with the Boob Merino Nursing bra or singlet as seen below.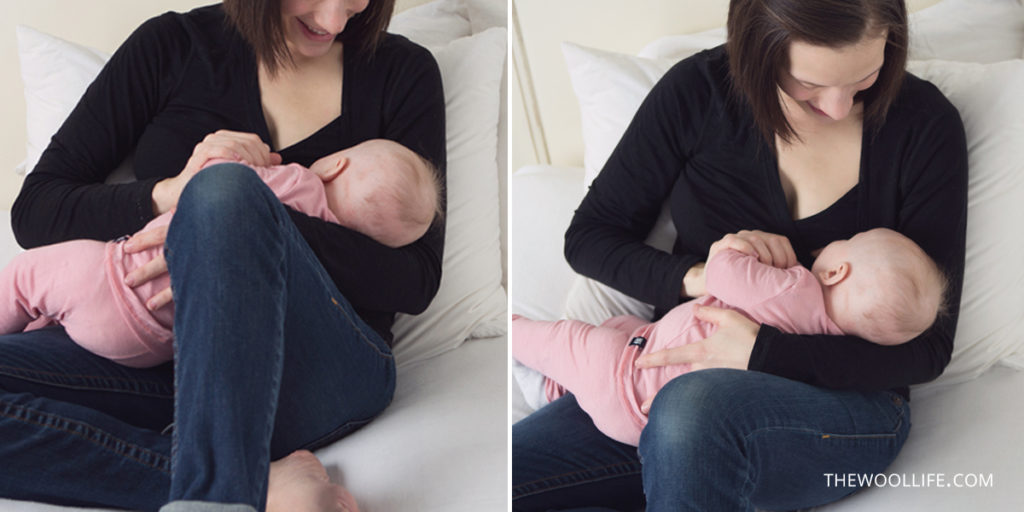 Cowl Neck Pullover: I also sized up to a large in the pullover for a slightly looser fit around my abdomen. There was not a significant difference between the medium and the large, but the large worked better to hide the postpartum muffin top. The pullover is a heavy weight merino (260 GSM) and significantly thicker than the V-neck. It has thumbholes in the sleeve cuffs, side pockets,  and a generous amount of fabric at the cowl neck. The cowl neck is quite stretchy and I am able to breastfeed with it but it does take some effort to pull it down and hold it in place for a nursing session. I would not recommend it for a newborn but I think it would be fine for an older nursling. My babe nurses quickly when its not for a nap or bedtime so it has been manageable. The length of this pullover also makes it a great compliment to baby wearing as the waistband of my structured carrier does not cause the shirt to rise up. I did not notice the pullover getting stretched much from wear like the v-neck.
Legging: Although the leggings are also a heavier weight merino (260 GSM) I sized down from a medium to a small because after some wear they were slightly baggy in the crotch and looser in the waist than I would like. The small also stretch a little after wear but I found them to be a better fit.
Hip Hugger Brief: The size small was a perfect fit and I did not notice that they stretched out after being worn.
COMFORT: Women's Ultralight V-Neck long sleeve and short sleeve: Both of these are extremely comfortable and long enough to keep everything covered when bending, kneeling or squatting and do not bunch up while sleeping. They are perfect for layering or by themselves.
Cowl Neck Pullover: I wear my baby often throughout the day so I was not sure how the cowl neck would work as I did not want extra fabric bunched up at her face. Surprisingly the cowl is more by her neck and does not interfere while she is being worn. I was very pleased with the versatility of the pullover and also liked that it covered my bottom.
Legging: Leggings are typically not a staple in my daily wardrobe but I needed a merino pant I could layer for the cold weather. After trying them on they have only come off for washing. They are extremely comfortable and are also wonderful for sleeping. The wide waistband is very flexible and I would guess that it would be perfect for pregnancy and postpartum use. The only drawback is because it is not as tight of a band I occasionally have to pull it up a little bit so it doesn't sag.

Hip Hugger Brief: I was very skeptical about the brief due to the minimal amount of elastic at the waistband. I wore them with jeans and with the leggings and did not have any problems with them sagging or falling down. I am not sure how they would work for pregnancy or postpartum but they are certainly suitable for every day use. They are the same light weight merino as the V neck shirts.
DURABILITY: I've essentially worn all the items non-stop since I received them and I have not had any issues to make me question the quality. I have had some pilling along the seams, which is typical, but otherwise I have been very pleased.
EASE OF CARE: The wool is machine washable on cold. It is recommended to wash inside out and tumble dry low or lay flat to dry. I have only hand washed them as I never have enough for a full wash load. The garments bleed quite heavily so wash with like colors, but they still look great after washing and the ultralight shirts air dry extremely quickly.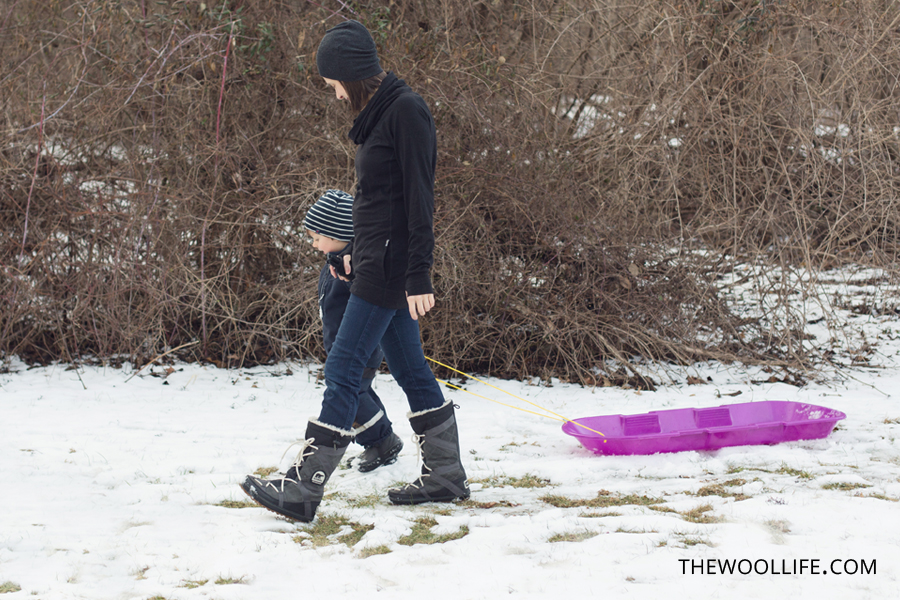 CONCLUSION: I have been very pleased with the quality and versatility of Woolly Clothing Co. women's line. Additional colors will be added in the future; cobalt will be the most immediate release. I would prefer to a more substantial waistband on the brief and the legging but I am pleased that the tops are breastfeeding friendly and multipurpose. Their goal of replacing cotton and synthetic garments with merino has certainly been attained for me already.
Woolly Clothing Co merino can be purchased HERE and for The Wool Life readers use code woollife to get 10% off at checkout. (code expires 12.31.18)