As a child growing up in Norway, Becca was used to playing outside throughout the year despite the chilling temperatures. When she moved to New York City as an adult with her two  young children, she noticed the once bustling playgrounds of summer became desolate when winter weather arrived. This was a stark contrast to Norwegian children who wear a merino layer underneath their winter clothes to keem them warm. Wanting to give American children that same winter freedom, Becca started her company named after her daughter, Ella's Wool.

Ella's wool specializes in merino wool base layers and tubes. Tubes are 100% pre-shrunk merino ribbed pants that are designed primarily to be worn as a mid-layer with a base layer underneath and a waterproof or wind resistant layer on top, or they can also be worn by themselves in milder weather.  The base layers are a heavier weight merino with a GSM of 215-220g/m2 and range from size 3 months to 10 years. Tubes are available in sizes 9 months to 7 years.  Both products are made with Australian merino wool using eco-friendly and humane manufacturing processes in East China and India.
(I was given clothing in exchange for my full and honest review, however all opinions are my own. This post may include some affiliate links for your convenience. Click here to read my full disclosure policy)
For my review I tested the base layer set, tank top base layer set, and a pair of tubes.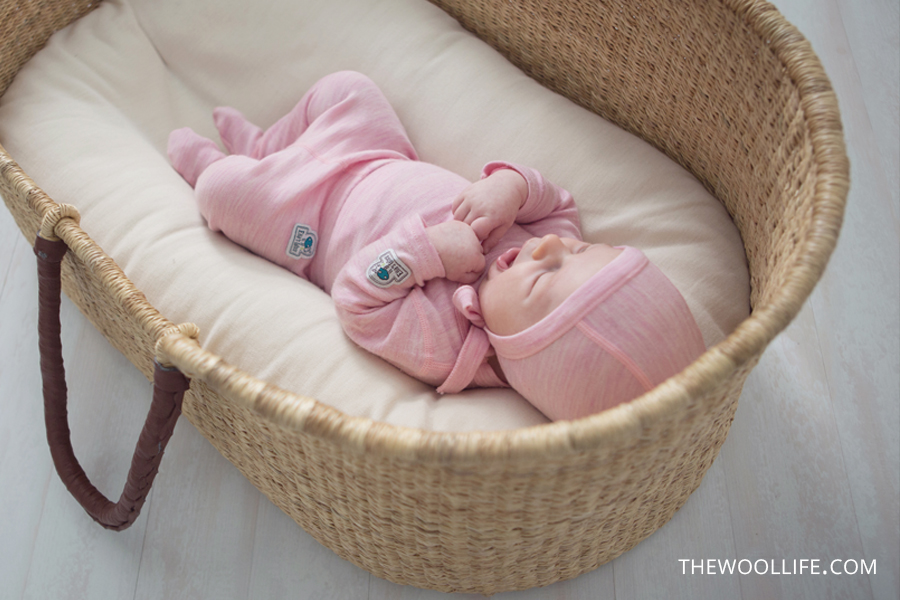 FIT: In my opinion the base layers tend to run small, although my children tend to run on the higher growth percentiles for their ages. My baby wore her 3-6 month set from birth until about 2.5 months when the onesie became a little short and then we sized up to the 6-9 month size. At three months she is about 14 pounds and wearing the 6-9 month onesie with the 3-6 month pants. The bonnet, which currently only comes in size 3-6, runs large and I expect it to fit her for several more months.  I like to size up for wool so that it can be worn for at least two years, so I chose a size 4-6 for my toddler, which fits well in the chest and gives plenty of growing room in the legs. The measurements of the different sizes are listed on ellaswool.com, so it's easier to decide on the proper size. I could have sized down for the tank to to have a tighter fit underneath shirts, which may be a consideration when sizing for your child.

The tubes are like magical pants! When I held them up they looked so long and skinny (just like a tube) and I did not see how they would fit. When I tried them on my son and they were snug, yet stretchy, and fit as needed because of the ribbing. They are designed to grow with your child, and to be worn first cuffed and later uncuffed for more length. They could easily last a couple years, depending on how much growing room you start with. I chose the size 3-5 yrs which had to be cuffed twice, but even then they still fit well and look nice.
COMFORT: Ella's Wool is one of the softest base layers I have found, as it almost feels like a cashmere blend. It is a thicker weight merino (GSM of 215-220g/m2), and one that I reach for often when the temperatures drop. There are no tags on the inside, and even the ties on the bonnet are soft and stretchy. The tubes have a stretchy yet firm elastic waist, and although not as soft as the base layers, are certainly very comfortable and not at all scratchy. Wearing the base layer under the tubes, as they were intended, certainly provides a high level of warmth.
DURABILITY: The base layers have been worn on both my children daily since the temperatures have cooled, and I have not noticed any weakness in the fabric. I tested the tubes worn with the base layers on my son outdoors, and they faired very well in the woods and for outside play. However, on a visit to a public garden, he ran, tripped and took a hard fall on the sidewalk. The tubes tore a hole in one knee, but the base layers underneath were fine. This did not deter me from the endorsing the tubes because it was such a hard fall even cotton pants probably would have torn. From now on he'll use them either under his shell pants or for running errands.
EASE OF CARE: The tubes are machine washable on a cold, delicate cycle with a wool detergent (see my recommendations) and the base layers are recommended to hand wash. The only real downside to such a soft, thick merino is that it will initially pill quite heavily. The pilling will reduce with repeated use and wash, but I found it quicker and easier to simply use a sweater shaver to restore it to its original condition.
CONCLUSION: Ella's Wool provides…
Thick weight base layers, perfect for winter weather
Tubes that can be layered for versatility in varying temperatures and grow with your child
Butter soft merino that pills heavily during initial use, but can be remedied with a sweater shaver or repeated washing
A small mom-owned business that uses eco-friendly, sustainable practices
** Ella's Wool is currently out of stock in a few long sleeve base layer sets but will be restocking later in the winter**