A review of Shepherd's Dream Wool Pillows:
Shepherd's Dream is a small business based out of Montague, CA. The highest quality materials available are used and every item is hand-made in their northern California workshop.  Their wool bedding is heirloom quality and made with the intention that it will last a lifetime.  The wool used is Eco Wool, which is wool sourced from small sheep farmers in the US who practice sustainable farming and raise their sheep in a cruelty-free environment.
(I was given these pillows in exchange for my full and honest review. All opinions expressed are my own. This post may also include some affiliate links for your convenience, click here to read my full disclosure policy. There is a discount code at the bottom of the post)

Because theoretically we spend one third of our lives sleeping it is important to me that the bedding I use is comfortable, functional and long lasting. I do not need anything interfering with my sleep, I have a toddler and two dogs that do that enough already. Here are some benefits of wool bedding:
Reduces sleeping heart rate and sleep disturbances
Wicks away moisture and helps the body reach ideal sleep temperature
Keeps you warm in winter and cool in the summer
Naturally fire, bacteria, and mildew resistant
Lasts longer and is more resilient than cotton or latex
Shepherd's Dream wool batting is not treated with chemicals or bleaches so it is safe for those who suffer from allergies and chemical sensitivities
It does not support the growth of dust-mites
For this review I tested the Shepherd's Dream Sleep Pillow, Contour Sleep Pillow, and the Customizable Wooly Bolus Pillow.
Sleep Pillow: Filled with premium eco wool batting and encased with cotton sateen. It comes in three different densities. Will compress 30-40% within the first 6 months of regular use.
Contour Sleep Pillow: Offers neck support and a sleep pillow all in one; it is tufted to create the supportive shape your neck needs. It is available in two weights, 30 oz with 6″ neck support and 35 oz with 7″ neck support. This pillow will compress between 25-35% in the first 6 months of regular use.
(Contour Sleep Pillow and Sleep Pillow pictured below)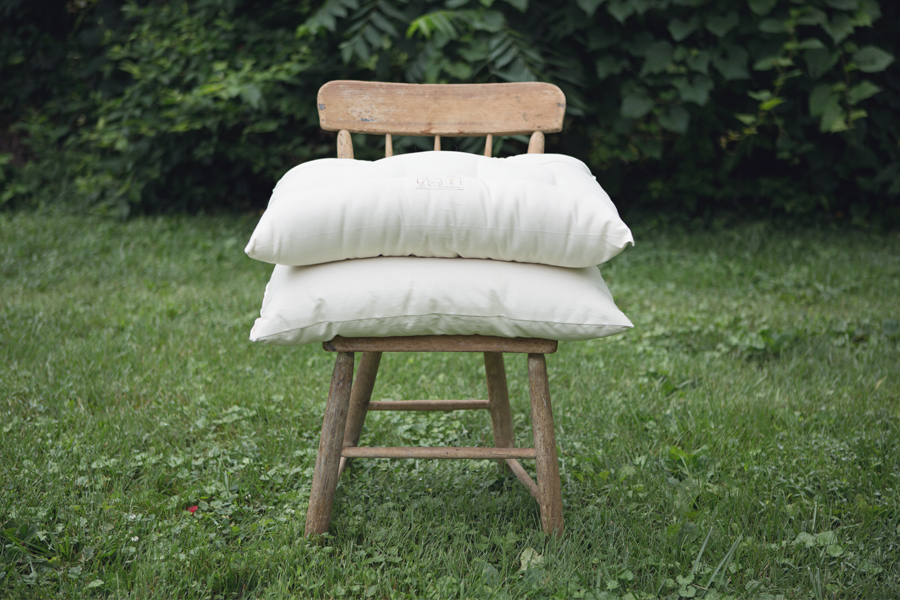 Customizable Wooly Bolus Pillow: This washable wool pillow is filled with 100% wooly bolus and covered with cotton sateen. It has a zipper enclosure so that you can easily adjust the softness or firmness and re-fluffed. More bolus can be purchased to add if needed.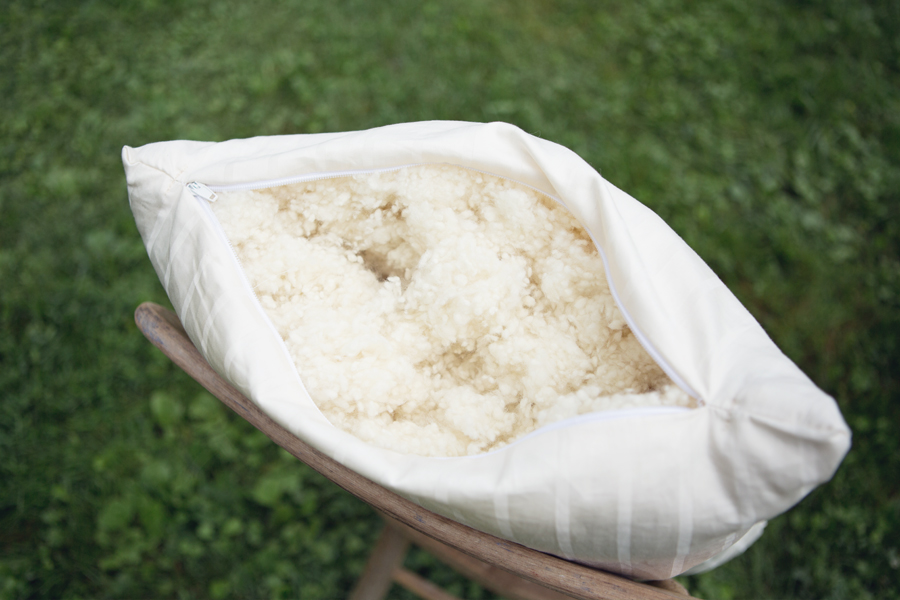 COMFORT: I think the comfort these pillows is dependent on your sleeping habits and preferences as well as what you are used to. For myself, I currently prefer the Wool Bolus Pillow because I am in my third trimester of pregnancy and primarily sleeping on my side. I like the 'fluffiness' of it. My husband has been using the Contour Sleep Pillow and the Sleep pillow and is primarily a back/side sleeper. The pillows are firmer than what he was used to but he finds them very comfortable and supportive.  We have both noticed that even on the hottest summer nights our heads are not sweaty. Since we have not used them long enough to experience the natural compression of materials I will update this review after several more months of use.
DURABILITY: The quality craftsmanship and materials is apparent in each of these pillows. The lifetime of the pillow depends on how it is cared for and what your sleep needs are.
EASY OF CARE: The Sleep Pillow and Contour Sleep Pillow are to be sunned and aired on a regular basis. Stains can be spot washed with a natural detergent or vinegar & water and aired to dry. It is not machine washable.
The Customizable Wooly Bolus Pillow is the only option that can be completely washed. To clean the wool is taken out of the cotton cover and each is washed separately.

CONCLUSION:
Excellent customer service
To choose the style of pillow consider your sleeping habits and preferences and contact Shepherd's Dream with any questions, they would be glad to help you find exactly what you need
For those concerned about a possible wool allergy Shepherd's Dream offers a sensitivity test
Shepherd's Dream has graciously given a discount to The Wool Life readers. Use code TheWoolLife15 for 15% off your order (excludes frames, raw materials, and discounted items). Code expires 12.31.17
Shepherd's Dream products can be purchased on Amazon or on their site here (discount only applies on www.shepherdsdream.com)