The popularity of baby loungers appears to have increased since I had my first baby a few years ago. I certainly understand the demand since my son was a bit of a high-needs baby and has always resisted sleep. Desperate to have a different experience with my second baby I began researching sleep products and was excited to find a lounger that used organic fabrics and wool. Still skeptical as to how well it would work, I decided it was worth a try.
The SnuggleMe Organic Wool is a sensory lounger that was created by a mama of seven over ten years ago. It is not a padded bassinet, nest, or dock which only have protective sides to enclose the baby and can still allow the baby to roll over. The SnuggleMe Organic is designed to fit your baby's head and torso while their legs drape over the bottom end. The sides actively hug the baby, creating the feeling of resting in a set of arms,  and prevents the startle reflex which mimics the womb.  Because the baby's legs can drape over the bottom end it helps to prevent the baby from rolling within the lounger and makes it a safe sleeping option. The lounger should fit the average baby for about six months or until their bottom starts to come up on the end of the lounger. Typically, by this time babies are developmentally ready for more space and can transition from the lounger to a flat surface easier.
Made in the USA by a small family business, each SnuggleMe Organic is crafted with love and care by local Minnesota sewers. Only fabrics that are manufactured in the US are used because they fall under CPSIA regulations which are the most strict on fabric manufacturing in the world. All materials used are certified organic which is important because babies are in the lounger for large amounts of time. (Learn more about why organic cotton is better for your baby)   The SnuggleMe Organic is also completely free of flame retardants, ethylene glycol, BPA's, Phthalates, and lead. I am not aware of any other lounger that also meets that criteria.
Why a wool filled lounger?
Wool is an amazing fiber for temperature regulation which is critical for a new baby whose body is unable to do so. Providing a sleep space that adapts as needed and doesn't allow the baby to overheat can also help reduce the risk of SIDS. Wool also naturally wicks away moisture and is mold and mildew resistant since it does not allow the damp conditions for mold to develop.
Studies have shown that sleeping on wool bedding produces less sleep disturbances and an increased duration of REM sleep.
Wool is naturally anti-microbial which means it resists odor.
Lanolin, the protective coating on wool, makes it naturally fire resistant.
Wool is a sustainable and biodegradable material
(I was given a SnuggleMe Organic Wool in exchange for my full and honest review, however all opinions are my own. This post may include some affiliate links for your convenience, click here to read my full disclosure policy)
So how does it really work?
My second baby has been a much better sleeper from the beginning, however, like any newborn, she loves to be held and kept close. She has slept and napped in it from the beginning and settles so much quicker than if I lay her down onto a hard flat surface like her crib mattress. She prefers to have her head resting against something and I have noticed that she will often turn her head to one side or the other so there is some pressure on her cheek.  With the SnuggleMe Organic design, there is no way that she could ever turn her face enough so she would not have a clear pathway to breathe. I have also noticed that she outgrew her need for her arms to be swaddled extremely quickly and does not startle easily while sleeping in the lounger, despite all the background noise from my toddler. We have used it every night for over two months and she has now reached the point where her legs are long enough to rest slightly on the end. I love how cuddled and cozy she looks in it!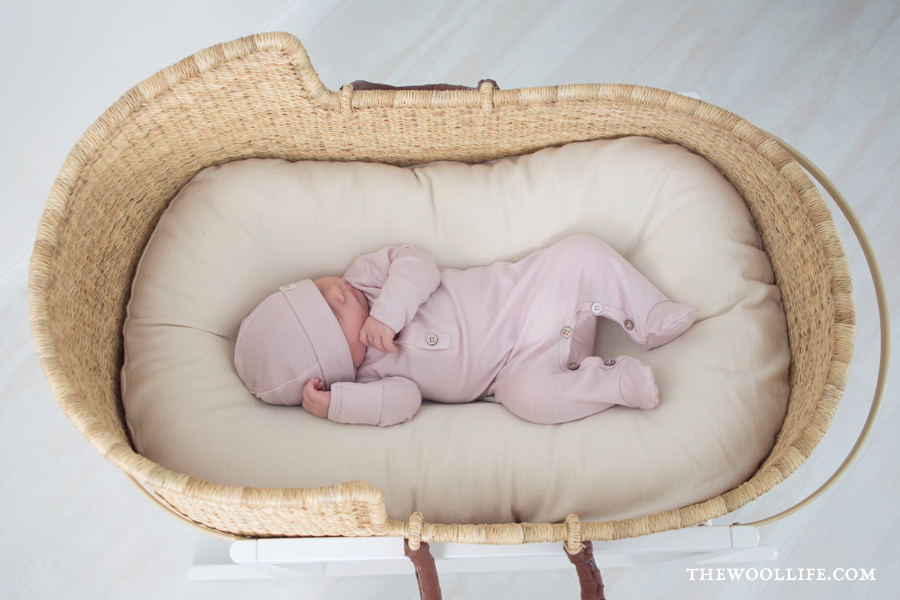 CONCLUSION: In my opinion, if you are expecting or know someone who is expecting this is a definite necessity! I am so thankful to have this for my baby.  If you want the ultimate temperature regulating sleep environment for your newborn (again this is just my opinion) pair the SnuggleMe Organic Wool with a merino baselayer and merino swaddle. (See baselayers here)  Also, if you have a ton of questions, which I did, the customer service is unparalleled! I do not know of any other company who has published the CEO's phone number on their website so that you can text them questions. I challenge you, just give it a try! SnuggleMe will let you try one for 30 days and if you are not satisfied you can return it for your money back. I am always skeptical of product claims but this is one I truly believe in.
The SnuggleMe Organic Wool can be purchased here.