I have used Disana's organic boiled wool jacket and hat for over a year and a half (see my review here) but I continually saw questions in facebook groups about the Disana organic boiled wool overalls and using them as a snowsuit. When I inquired, Disana told that the ideal climate for their use is cool and dry weather as the boiled wool is not windproof or waterproof.  Personally, the wool jacket and overalls are not my son's only winter wear. He primarily wears a Polarn O Pyret one piece snowsuit for our long, wet, and snowy winters. I was given the overalls in exchange for my full, honest, and unbiased review. All opinions are my own.
(This post includes some affiliate links for your convenience, click here to read my full disclosure policy.)
Disana is a 30-year-old German family business that operates by highest standards of craftsmanship and ecological quality. Only organic cotton and organic pure new merino wool is used for their clothing. They are not only concerned about avoiding contaminants in the fibers they use, but also for the living conditions and environmental protections in the countries from which they are sourced. Per their website "Disana was a founding member of the International Association of Natural Textiles (IVN) and are committed to adhering to its guidelines for natural textile production; these are recognized as the most comprehensive, strictest guidelines in the world. Strict compliance with environmental and social standards is just as much a part of these guidelines as full transparency during the acquisition and processing of raw materials. Thus, Disana was one of the very first companies to receive the BEST organic textiles label and Global Organic Textile Standard label for many of its products. This sign of quality is conferred after a long, extensive certification and testing process, and indicates organic textiles of the highest ecological quality." Disana's children's fashion is made for outdoor life and supports the child's urge to move by allowing freedom of movement in their clothing.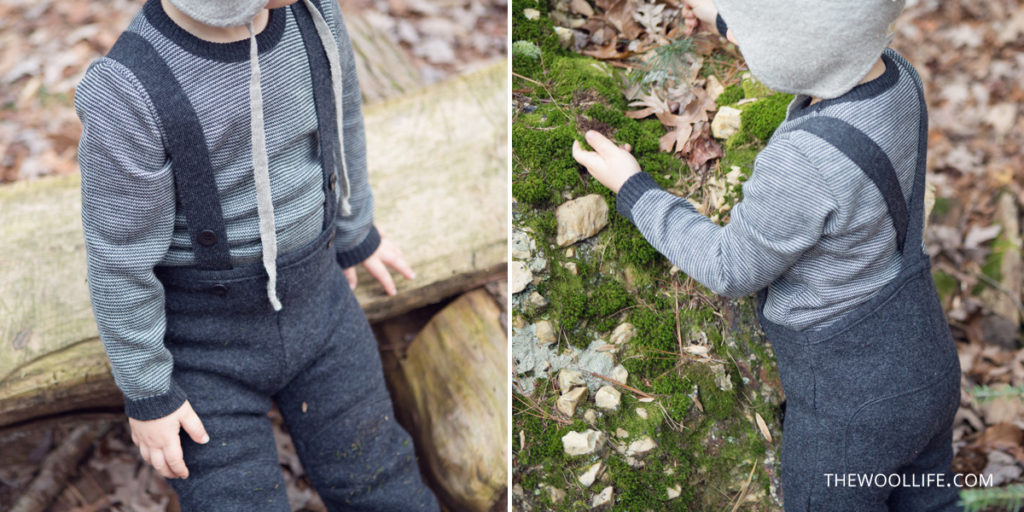 FIT: The overalls are cut high in the waist and even higher in the back to keep the back and belly covered while bending. The knees are reinforced and slightly pre-bent and the backside is also reinforced. The straps are made from a knit fabric and stretch easily to accommodate movement. I have used them both uncrossed and crossed to help prevent them from slipping off the shoulders.  The overalls were said to be 'roomy' to allow for layering underneath but when I first tried them on my son they fit more like regular pants. However, they were not too snug to wear over the baselayer and seemed to stretch a little as he wore them. He has also worn them layered over two baselayers and I have not had any difficulty getting them on. The inseam length is suitable to tuck over the top of his boots and would also be easy to fold over if there were some extra growing room. My son is wearing the size that matches his age as the next size up would have been several inches too long in the inseam. I think the fit of the overalls would be more generous if a childs stature were more slender but they still fit my thick boy very well. The overalls are available in size 6 months to 5 years.
COMFORT: My son refused to wear the overalls without a baselayer underneath because he did not like how they felt. They do not feel rough or scratchy to me, so it could be attributed more to his strong opinions regarding clothing or because it is a different type of material than he is used to against his skin. He had no complaints when they were worn over his Ella's Wool Baselayer.
DURABILITY: The overalls best quality is their durability, they are truly like toddler armor. I can put them on my son and not have any concern that he is going to damage them. He has worn them for playing outside, hiking in the woods, and climbing on rocks. Prickers, thorns, rough surfaces or falls on the sidewalk do not harm them and nothing short of scissors will make a hole. This level of durability is very hard to find with wool. The only visible wear I have seen thus far has been along the bottom trim of the legs and even that is very minor. The only downside to these overalls is that so much of nature (leaves, dry grass and snow) will cling to the pants, but usually they are easily brushed off.
EASE OF CARE: Boiled wool very rarely needs to be washed, but if absolutely necessary hand wash with tepid water using a wool friendly soap (see how to wash wool) and reshape to dry.

CONCLUSION: So how did they perform in the snow? I layered his Ella's Wool Baselayer and Tubes underneath so he could play in the fresh snow. The fluffy snow immediately clung to the pants but he was warm and dry during the duration of our time outside. Most of the snow did shake off his pants and the pants did dry fairly quickly. I would not have him wear these for a wet, slushy snow as with enough play the wetness would eventually permeate all the layers but they performed well for this outing. The Disana boiled wool overalls will definitely be a staple in my son's wardrobe and I plan on purchasing the next size when he outgrows these. Their versatility, durability and quality make them a valuable part of his capsule wardrobe.
Note: Disana changed their colors in 2017. Below is the old grey on the left and the new grey on the right. You can also see the old style hat with the tassel and the new style hat without the tassel in my images.
Disana Boiled wool products can be purchased here or from retailers such as Mama Owl and Cambridge Baby.